Hello Redsunimites, apologies that I haven't updated on this blog for a while.. I guess the comic strip thing of the week went bust.. so I guess I will try my hardest to make up for that by updating you guys alot in the following week. I mean 'Alot!'
I don't know about you guys, but if you like reading DC comics and probably read them before the New 52 (If not scroll of my post) then does Mr Micro Marvel have somthing special for you... Well at least if your favorite Batgirl was Stephanie Brown.
But before I go on I would just like to specify why this may be a good.. or bad idea..depends really.
What I am talking about a comic book character that has lead to many debates of who the greatest Batgirl has been. It seems since the new 52 she has not been seen due to Barbara Gordon getting up from her wheel chair. When asked questions by fans at the panels during conventions, the DC comics employee's usually come out with an unspecified answer. It was rumoured before that she would have a one shot in the continuity of the Smallville season 11 comic book as a female 'Nightwing' Alas poor Stephanie was again shunned as she was replaced within the final decisions by Barbara Gordon.. Again! It is said that DC just keeps slapping the Steph fans in the face.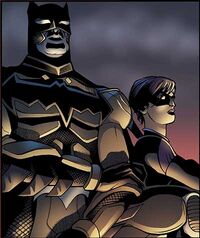 bottem shows an image of what Stephanie 'Would of looked like, on the tophere is Barbara Gordon with Batman on the episode "Detective" in Smallville season 11.
Since pre The new 52 many movement's petitions and even fandom based media has started (That's right, The fans have taken Stephanie into their own hands). One of the biggest movements is "Waffles for Steph" Which is a campaign were every year, on (August the 10th, Which is the date of Stephanie's last appearance) send Waffles to DC HQ. Why Waffles?: As quoted "Waffles. [A] new way of bonding…" To borrow some words from some fellow supporters, throughout the book waffles appear symbolizing, as the quote says, bonding. In fact, the first time we see Stephanie out of costume, her mother is giving her waffles for breakfast. Which was mentioned in her first issue.
Here is a video from one of the sponsors from the movement on why DC should bring back Stephanie Brown.
Now.. Here is something that I can say as a Stephanie Brown fan made me proud and also how awesome the community is. This is a web series accounted for, produced and created by an independent video company that is not affiliated with DC comics in any way, but they figured if DC keeps rejecting Stephanie and has no use for her in anyway then they will make up a web series for her community. This web series is called Batgirl: Spoiled which follows Stephanie Brown as Batgirl following the events after her breakup with her partnership with Batman. So it basically follows the story pre new 52. The series is produced by both Marisha Ray (who plays batgirl) and Sax Carr (one of the writers). The series is about Stephanie finding her place as her own individual hero persona in Gotham City. By that because she never had a dark personality like the Batman or any of the Robins or other Batgirl's. In fact she was more of a lively comedic robin/Batgirl who was like a mother figure to Batman who only looked for acceptance from Batman as she saw him as an inspiration, the way I see her as the Harlequin of the Bat family.
Below Is the teaser trailer for the series, You may also recognise a few familiar faces.
Thats me for this one fans!.. Adiós! and see you again real soon.